French strikes threaten Euro 2016
Comments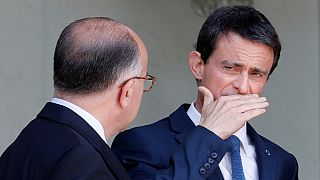 France continues to be hit by a wave of industrial action just days before Euro 2016 kicks off.
Near Paris, workers at one of Europe's biggest incineration sites staged further protests against the government's proposed labour reforms.
Despite signs that the wider strike action is running out of steam, hopes the dispute will not drag into the first week of the European football championship's, which start on Friday, appear to be fading fast.
Train services were also disrupted for a seventh day on Wednesday while protesting workers from France's hardline CGT union blocked Paris' Gare du Nord station, as a train carrying the tournament's trophy arrived.
"Unfortunately, yes, we plan to continue this strike action even if it does impact on the Euros, too bad. Personally I would have preferred the labour bill to have been withdrawn before now so we could have had a nice tournament,'' one protesting worker said.
The dispute centres on EU-wide rail liberalisation but is also closely linked to broader government plans to make hiring and firing of workers easier as President Francois Hollande tries to trim France's jobless rate.