EU workers in UK worried about future right to work
Comments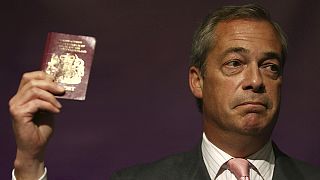 Some EU nationals living in the UK are concerned about how a Brexit would affect their right to work there.
The debate and divisions in the UK are already making some workers, such as Poles, to look for work elsewhere, like Germany.
One of the strongest UK voices against workers' freedom of movement is leader of the anti-EU party UKIP, Nigel Farage.
He spoke to Euronews about the topic.
"If your population is growing by half a million a year your GDP figures go up – what does not go up is GDP per capita, and what you cannot measure, what does a migrant pay in tax and what do they take out in benefits, but we do not measure is capital cost, how many new schools, how many new hospitals, how many new roads, we can't cope with all that and it is interesting some some surveys say it's a net benefit, one survey said it was a small net lost, the house of Lords said it was impossible to determine and was probably about even," Farage told Isabel Kumar.
If Britain ends up leaving the EU, it may be able to remain in the European Economic Area (EEA)along with non-EU member states Iceland, Liechtenstein and Norway.
However at this stage there remains a lot of uncertainty.