When is the EU referendum, What is Brexit and 8 other questions about the vote
Comments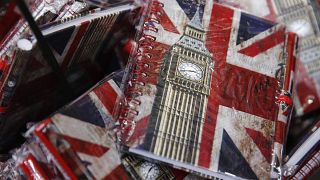 With a referendum on the future of Britain's membership of the European Union looming, voters are focusing on the practical aspects of how to have their say.
Thanks to Google Trends,
Euronews has taken a look at the questions being asked on the search engine to try to provide the key information.
Below is a list of the most-asked questions on Google the UK regarding the EU referendum, together with some answers:
When is the EU referendum?
The referendum vote will take place on Thursday 23rd June, 2016.
What is 'Brexit'?
A combination of Britain and exit, it is a term used to describe the events following a vote to leave the EU
Who can vote in the EU referendum?
British citizens over the age of 18 can vote in the referendum unless they have lived outside the UK for more than 15 years. Irish and Commonwealth citizens living in Britain can also vote.
How to vote in the EU referendum?
If you are already on the electoral register you will automatically receive a card in the post explaining where and when you can vote. You can then go to a polling station on the day of the referendum to cast your vote. If you are not already registered, you can do so here here
You can also vote by post
What will happen to EU citizens after Brexit?
A Brexit would not immediately follow any "no" vote.
There would be at least two years of negotiations for establishing the terms for the UK's departure. These would dictate the conditions under which other Europeans could stay in Britain.
Throwing out European nationals who are living in Britain would be harmful to the economy, so it is unlikely. However, the rules for new arrivals would be likely to change and all Europeans might not get the same treatment.