Shark attack survivor Hamilton secures career-best third place in Fiji Women's Pro
Comments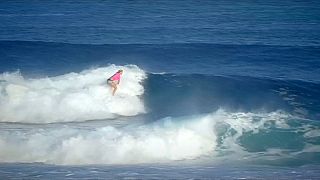 Hawaiian surfer Bethany Hamilton who lost her arm in a shark attack 13 years ago has finished a career-best third place in the World Surf League's Fiji Women's Pro this week.
The 26-year old wildcard beat six-time world champion Stephanie Gilmore and another Australian in world number one Tyler Wright en route to her podium finish.
In the semis she lost to the eventual winner, France's Johanne Defay.
Hamilton's previous best in her six outings on the elite tour was a ninth place finish in 2010.