Ex-Chad leader Hissène Habré gets life in prison for crimes against humanity
Comments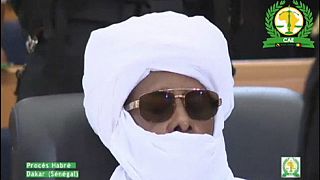 Habré ruled Chad from 1982-1990
Investigators told trial he was responsible for 40,000 killings and torture of 200,000 people
He denied all charges, refuses court's authority
Victims campaigned for 25 years for justice

Former Chad dictator Hissène Habré has been sentenced to life in prison for crimes against humanity in a landmark trial.

The court in Senegal found the 73-year-old guilty of torture, rape, sexual slavery and ordering killings of thousands of political opponents.

The trial is the result of a 25-year campaign by victims to bring Habre to justice, and marks the first time the African Union created court has tried a former leader for human rights abuses.

Investigators and witnesses detailed how during Habre's rule from 1982-1990 up to 40,000 people were killed and 200,000 were tortured. The trial heard how opponents were asphyxiated, water boarded and electrocuted in an underground prison.

Forensic teams gave evidence of mass graves, and a handwriting expert identified Habre's writing on police documents.

Habre, who denies all charges and refuses to recognise the authority of the court, is expected to serve his sentence in a prison in Senegal.