More storms on the horizon as lightning strikes Europe
Comments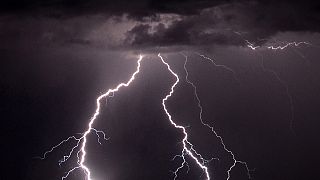 More severe thunderstorms are expected across Europe a day after lightning strikes hit several parts of the continent.
In Germany, 30 people were taken to hospital on Saturday after they were struck during a junior football match.
Three adults were seriously hurt, including the referee who was directly hit by a lightning bolt. He had to be resuscitated before being airlifted to hospital.
"There were many spectators. What was problematic, was that we live in a rural area where everybody knows everyone. It's more of a shock, because you know the person lying there who is seriously injured. We are extremely glad that this whole thing had a happy ending, and there are no dead to mourn," said Guenter Denzer a volunteer firefighter.
In South-west Poland, one man was killed after he was struck by lightning while hiking in Mountains.
And in Paris, 11 people, most of them children, were injured during a birthday party in a park in the north-west of the city.