Migrants are not a danger but are in danger - Pope
Comments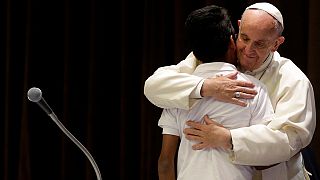 The number of minors who make the journey on their own and arrive in Europe is much higher than what we saw last year
"Brought by the waves"
Hundreds of children, many of them migrants, travelled to the Vatican on Saturday for an emotional meeting with Pope Francis.
The children caught a special train from southern Italy to the Vatican's own railway station.
Visiting Vatican aboard "Children's Train," Pope tells 500 kids: "Migrants are not a danger, they are in danger!" pic.twitter.com/9Dhrbl4GwN

— Rich Raho (@RichRaho) 28 mai 2016
The majority were Italian, but some were migrant children living in Italy after having been rescued while trying to cross the Mediterranean.
The theme of the meeting was "Brought by the waves", referring to the bringing together of Italian children and those arriving in Europe from across the Mediterranean.
"Not a danger but in danger"
The Pontiff told the children that migrants "are not dangerous but are in danger."
He showed them an orange life jacket he was given by a Spanish rescuer.
"He brought me this life jacket and, crying a little bit, he said 'Father, I failed. There was a little girl in the sea and I was not able to save her. All I could reach was her life jacket," the Pope told the children.
"What was her name? I don't know – a little girl without a name. She is in heaven and watching us. Let's close our eyes, think about her and give her a name."
Are migrants still arriving in Italy?
Yes. The numbers are increasing.
There has been a surge in migrant traffic this week between Libya and Italy, with more than 14,000 saved from overcrowded boats since Monday.
It is thought hundreds of lives may have been lost in three shipwrecks.
The UNHCR says favourable weather conditions from May to October often encourage more migrants to make the crossing.
The central Mediterranean route is once more popular, after access via Turkey and Greece was closed off earlier this year.
What role can the Pope play in the migrant crisis?
Pope Francis has tried to emphasise the plight of migrants and refugees, especially the hundreds of thousands who have risked their lives to come to Europe in flimsy boats.
The Pontiff visited the Greek island of Lesbos last month, bringing 12 refugees back on his plane to set an example of how other people and countries should welcome new arrivals.
He has expressed dismay at the response from some EU member states to the migrant crisis. Fences and barriers have been built to discourage migrants and refugees from travelling north to the more affluent, western European nations.
What they are saying
"The number of minors who make the journey on their own and arrive in Europe is much higher than what we saw last year," – Giovanna Di Benedetto, Save the Children.