Obama makes historic Hiroshima visit
Comments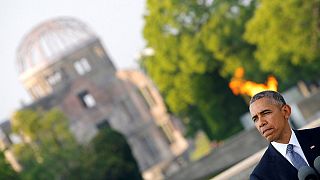 Barack Obama has become the first serving US president to visit the Japanese city of Hiroshima, 71-years after it was hit by the world's first nuclear bomb attack.
Accompanied by Japan's Prime Minister Shinzo Abe, Obama laid a wreath to honour victims.
At least 140,000 people died in the US bombing.
In a speech watched by survivors of the blast, the president called on humanity to learn the lessons of the past and make war less likely.
"We stand here in the middle of this city and force ourselves to imagine the moment the bomb fell. We force ourselves to feel the dread of the children confused by what they see. We listen to a silent cry……Those who died they are like us. Ordinary people understand this I think. They do not want more war. They would rather that the wonders of science be focused on improving life and not eliminating it. When a choice is made by nations, by leaders, reflect this simple wisdom, then the lesson of Hiroshima are done,'' the president said.
Afterwards, Obama met and hugged some survivors of the atomic strike, which hit Hiroshima on 6 August 1945.
Tokyo and Washington have said they hope the visit will showcase their alliance and invigorate efforts to end nuclear arms.