G7 says 'global growth is our urgent priority'
Comments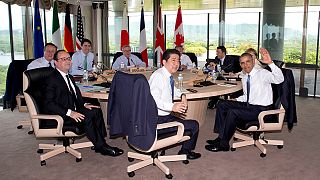 After a two-day summit in central Japan, the Group of Seven industrial powers pledged on Friday to seek strong global growth.
The G7 expressed concern over North Korea, Russia and maritime disputes involving China.
It demanded that North Korea fully comply with United Nations Security Council resolutions and halt nuclear tests, missile launches and what it called other "provocative actions".
The G7 also called large-scale immigration and migration a major challenge and vowed to increase global aid for the needs of refugees and displaced people.
Referring to Britain's EU referendum, the G7 said a Brexit "would be a serious risk to global growth."
Euronews correspondent James Franey has more.
"With the G7 adding its name to the list of international organisations that want Britain to remain inside the European Union, it's clear which way global policy makers want June's referendum to go. What's less clear – at least publicly – is what their plan B is, if British voters do decide to walk away from the EU."