G7 leaders express concern for emerging economies
Comments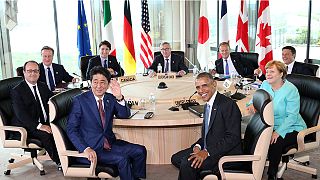 Euronews correspondent James Franey reports from Ise-Shima, where Group of Seven (G7) leaders have voiced concern about emerging economies at the summit in Japan.
Crisis? What crisis? The G7 leaders seemed to be in relaxed mood as they arrived at the summit venue in Japan.
For Britain's David Cameron, it was a chance to get away from the heat of his campaign to keep Britain in the European Union.
And they have a huge in-tray over the next two days.
Their top priority is how to address the imbalances in the global economy as growth slows in China and other emerging markets.
Japanese says governments should spend more to get growth moving again.
"As you know, Prime Minister Abe has been taking the economic policy called Abenomics. I think this economic plan can be applied to the other countries and to the global economy as well," said Kenko Sone, Director of Global Communications for the Japanese prime minister's office.
G7 Ise-Shima Japan kicked off with a working lunch: #G7 values and #GlobalEconomy on the agenda pic.twitter.com/UAxh8kEXmp

— G7 (@g7) 26 May 2016
Amid all the talk about China, the country's steel industry is also under fire for alleged dumping – when products are sold abroad well below domestic prices.
EU officials believe tougher tariffs are needed to save European jobs.
"I do think that we have a general problem in Europe when it comes to the Chinese over-capacity. This is affecting all our countries – we have 22 steel producing countries in the European Union. And all the countries having steel industries on their territories have the right to defend their industry," said European Commission President Jean-Claude Juncker.
The industry employs more 300,000 in Europe and more than 8 million worldwide, according to the World Steel Association, a leading global trade body.
Because steel is used so widely in other sectors, it is an important bellwether of how an economy is performing.
James Franey adds from Ise-Shima:
"Exports, such as steel, helped power the world's second largest economy over the past two decades. It allowed Beijing to build up huge cash reserves and spend big on investments abroad.
They include Western government debt, which helped to keep interest rates low for borrowers in those countries.
G7 nations such as The UK and Germany have openly courted the Chinese. But it makes you wonder who is really in the driving seat of the global economy."
The leaders will be also be discussing terrorism, cyber security and maritime security.
The leaders agreed on Thursday on the need to send a strong message on claims in the western Pacific, where China is locked in territorial disputes with Japan and several southeast Asian nations.
China has replied that the issue has nothing to do with the G7.
PM visits the Ise Jingu shrine with other #G7 leaders at the g7</a> summit in Japan. <a href="https://t.co/EQ75dwrzyQ">pic.twitter.com/EQ75dwrzyQ</a></p>&mdash; UK Prime Minister (Number10gov) 26 May 2016