Austria's far-right Freedom Party closes in on presidency
Comments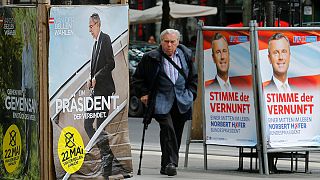 The candidates vying to become Austria's president have been holding their last rallies ahead of Sunday's crucial vote.
The contest could end with the country being the first EU country to elect a far-right head of state.
The anti-Islam and eurosceptic Freedom Party (FPO) candidate Norbert Hofer says his most important political project is to secure borders.
23…
His rival is Alexander van der Bellen, a former Greens party leader. The pair have exchanged bitter attacks in the run-up to the decisive vote.
The 72-year-old has accused his opponent of wanting to dismiss any government that doesn't suit him.
The pair emerged after trouncing the governing Social Democrats and their conservative coalition partners, triggering a party revolt that toppled SPO Chancellor Werner Faymann last week.