Austria on the brink of electing far-right president
Comments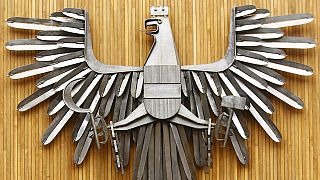 Austria is on the brink of electing the European Union's first far-right head of state.
The second round of voting in the county's presidential election goes ahead on Sunday with Norbert Hofer well ahead after round one.
The leader of the Freedom Party polled 35 percent of the vote and faces off against independent rival Alexander Van der Bellen, who gleaned 21 percent.
Presidential elections in Austria on Sunday: meet the two candidateshttps://t.co/0SbISF92yK

— euronews (@euronews) May 21, 2016
"People are afraid of all the stuff what's going on at the moment – refugees, unemployment is rising. So that's the kind of fear they have, and that obviously supports those (right-wing) parties at the moment."
"The president of Austria, he's not here to make decisions, he is here to show the country of Austria to foreign countries, to other countries. So it's more up to the parliament (to decide) what will happen in Austria."
Happy weekend from Vienna! (on photo the parliament) LinosVersion</a> <a href="https://t.co/CFsgn7xCN2">pic.twitter.com/CFsgn7xCN2</a></p>&mdash; michaela peter (austria63amy) May 21, 2016
A Hofer victory will send a shudder through European capitals already under pressure from a rise in the popularity of far-right parties.