Austria prepares for Sunday's presidential run-off with polls suggesting a Norbert Hofer victory
Comments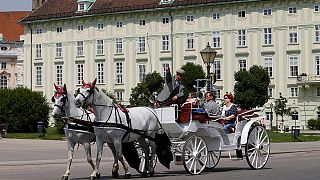 Austria is preparing for the presidential election run-off on Sunday and political turmoil is bubbling under the surface.
The decades-long traditional two-party-system is over. The far-right Freedom Party's candidate Norbert Hofer could be elected as the new head of state.
He won the first round with more than 35 percent of the votes. Before the election he was virtually unknown not only on the international stage but also in Austria. He is seen as giving a smiling face and a soft voice to his party's radical views.
But why the fuss ahead of the run-off as traditionally the head of state does not interfere in day-to-day politics in Austria.
Hans Rauscher is the political analyst of the daily 'Der Standard'. He explained that while largely a ceremonial role the president can dismiss the Chancellor and the government.
"If the government says we have to raise taxes or if the government exceeds a certain quota of refugees or if the government doesn't do away with unemployment within one year, he has announced these are instances when I will dismiss the government. And he can do that. Of course, there will be protests, demonstrations, whatever but it's within his constitutional powers," he explained to Euronews.
The only remaining candidate who can prevent Hofer's presidency is Alexander Van der Bellen. And the polls suggest a very close contest.
The 72-year-old professor of economy used to be the leader of the Green Party but is running as an independent.
His aim has been to unite voters who don't want a right wing president, seen as turning the vote into a referendum on extremism
"The voters of the Freedom Party are not all Nazis. They are protest voters. They are fed up with the ruling coalition which wasn't very successful. On the top of unemployment, raising of prices, inflation, came of course the influx of refugees which tipped everything," added Rauscher.
Werner Faymann was chairman of the Social Democratic Party and Chancellor of Austria. He resigned from both positions amid widening criticism within his party. Now with the far-right Freedom Party leading the polls Austria faces a tough decision on Sunday.
Euronews correspondent Gergely Bártfai reported from the Austrian capital, Vienna: "The Hofburg, the former traditional residence of the Habsburg dynasty's emperors, is now the office of the President of the Republic of Austria.
'One of the candidates will move in here after the election and with the move will be sending an important message to Europe."