Struggling Woods hits the drink at charity event
Comments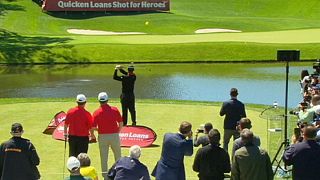 Questions over whether Tiger Woods is ready for a return to the PGA Tour were sort of answered by the American this week during a charity event at Congressional Country Club in Maryland.
The 14-time major winner hit three successive balls into the water hazard on a 93-metre hole.
The 40-year old hasn't played since August as he recovers from back surgery and the rust looked still firmly attached to his clubs.
Before his slightly embarrassing shots Woods said: "I want to play. Trust me, I want to. Now, whether I can or not, it's a different story. And if I could tell you, I would, but I can't, not yet. I'm still working, I'm still trying to get stronger, and still need to try and recover."
His first two shots went directly into the water while his third went closer only to roll back into the drink.
Despite these cringe-worthy moments, Woods still remains a major draw for supporters at tournaments and lovers of the game can only wish arguably the finest ever golfer the grace the fairways a speedy return to form.