Christian Kern to become Austria's next chancellor
Comments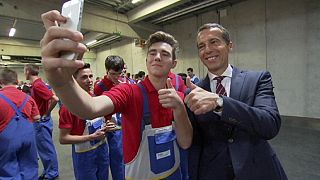 Rail boss Christian Kern will become Austria's next chancellor, after the Social Democratic Party (SPO) united behind him as its choice to lead the embattled coalition government.
Werner Faymann stepped down as chancellor, after the SPO's candidate in the presidential election crashed out in the first round and sparked a revolt.
Kern oversaw the mass transit of asylum seekers to Germany at the height of last year's migrant crisis. He's been keeping a low public profile and has given little away about his policy preferences.
A party leadership meeting on Tuesday will formally propose Kern as chancellor. He will then need to be sworn in by President Heinz Fischer.
Kern faces a tough task in keeping the coalition alive, while also rallying a party divided over how to reverse its electoral fortunes without abandoning liberal principles.