Presidential vote underway in the Philippines
Comments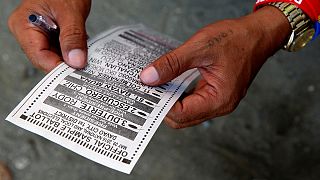 50 million registered to vote
"Donald-Trump" -style candidate is favourite
Vote has exposed disenchantment with governing elite, despite strong economy
Voting is underway in the Philippines as the population chooses a new president and vice-president.
Voters in the #Philippines expected to elect outspoken mayor as president https://t.co/4PJwCPe1aCLamYikFei</a> <a href="https://t.co/fHoihvHItu">pic.twitter.com/fHoihvHItu</a></p>&mdash; Getty Images News (GettyImagesNews) May 9, 2016
Voters in Manila have queued in blazing sunshine.
There are reports of problems with the electronic voting machines, which could scupper the election commission's pledge to declare a winner in 24 hours.
How is the mood in the country?
The election campaign has exposed growing disgust with the Southeast Asian country's governing elite.
There is widespread poverty and inequality despite years of robust economic growth.
"The 'Donald Trump' of the Philippines"*
Rodrigo Duterte has a commanding lead in the polls as the Philippines goes to vote https://t.co/bEgXGD6A1tpic.twitter.com/QkTzZIaE0W

—

TIME

.com (@TIME) May 9, 2016
"Change is coming!"
This has been the campaign slogan of Rodrigo Duterte, the mayor of the southern city of Davao who has emerged as the front-runner.
His 'man-of-the-people" style has won him several mayoral elections since 1988, leading some to compare him to the Republican US presidential hopeful, Donald Trump.
His campaign focused on:
law and order
graft
crime
drug abuse
Who are the other candidates?
Voters in the Philippines go to the polls Monday after a bruising campaign to lead the Catholic country. https://t.co/ubc7Q8GQsx

— QkTip (@QkTipcom) May 9, 2016
Four other candidates are in the running to succeed Benigno Aquino III.
CAPIZ, ROXASCITY — LP bet Mar Roxas with wife Korina arrived at their polling precinct in Roxas City. | BOYSANTOSpic.twitter.com/eJhfjIRBA7

— The Philippine Star (@PhilippineStar) May 9, 2016
The president has endorsed the candidacy of Mar Roxas, a 58-year-old US-educated investment banker. He is also the grandson of a former president.
He has described the election as "the force of democracy against the force of dictatorship."
The other candidates are Senator Grace Poe-Llamanzares, Vice President Jejomar Binay and Senator Miriam Defensor-Santiago.
Global boxing icon Manny Pacquiao is running for Senate.
"Bongbong" Marcos Jr, the son and namesake of late dictator Ferdinand Marcos, is contesting the vice-presidency.
How many people are voting?
More than half of the 100 million population is registered to vote.
The election will choose a president, vice-president, 300 lawmakers and around 18,000 local government officials.
What they are saying
"I am voting early so the mayor will be represented early." – voter at polling station in Davao.
"Mr Davao's campaign symbol is a fist – intended for lawbreakers, but seemingly also aimed at the oligarchy. The messages resonates with the frustrated poor but his fans span all classes." – columnist Miguel Syjuco