Colombia government and FARC rebels return to peace talks
Comments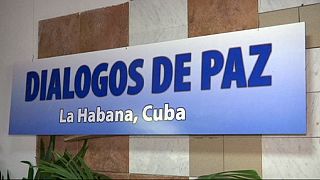 Colombia's largest rebel group the Revolutionary Armed Forces of Colombia (FARC) and the government have returned to talks aimed at ending 50 years of conflict in the country.
Negotiations been delayed by controversial issues such as demobilisation and disarmament. Bogota's insistence on a national referendum on any final peace accord had also stalled the dialogue.
The left-wing group's chief negotiator Ivan Marquez said on Friday the rebels remained committed to the peace process, but called on the government to refrain from attempting to impose conditions outside of the legal framework of the accords.
The two sides have been negotiating since November 2012 and represent the best chance for Colombia to end a conflict that has killed more than 220,000 people since it began.
Opinion polls have suggested that "a majority of Colombians have a negative view of the peace process':https://panampost.com/orlando-avendano/2016/05/06/most-colombians-reject-deal-farc/.
The world's longest war could soon be over: Inside the jungles where it began https://t.co/GEbJde2jhOpic.twitter.com/TY7JuCGeCt

— Mashable (@mashable) 6 May 2016