Hungary's PM Orban slams plans for migrant quota fines
Comments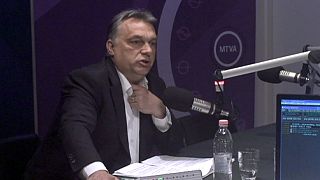 It's "outrageous" and a "kick in the stomach." Hungary's Prime Minister Viktor Orban has slammed EU proposals to fine member states a quarter of a million euros for every migrant they refuse to take, as part of controversial quotas.
He says the focus should be on protecting Schengen borders and the running of refugee camps.
Orban told Hungarian public radio that the fine plans show that "those who should be our leaders in Brussels are sitting in an ivory tower, isolated from the world.
"They don't know the reality, they don't have a clue what they are talking about.
"How can some draw up a proposal like this?"
Orban opposes the plans – agreed in September – to redistribute 160-thousand migrants around the bloc.
Voters are set to be asked whether Hungary should accept any future EU quota system.
Euronews' Andrea Hajagos reported from Budapest: "There could soon be a referendum in Hungary, asking if the EU can decide on obligatory requirements without the permission of the Hungarian Parliament.
"Its result in fact won't have a direct effect on the EU's decision, but it could be an important trump card for the Hungarian government, in negotiations in Brussels."