US urges Russia to rein in Damascus after upsurge in Syria violence
Comments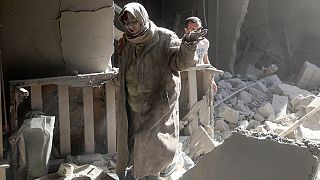 There have been stark warnings about the war in Syria following the recent increase in fighting in Aleppo that's sabotaged a ceasefire and peace talks.
The US Secretary of State John Kerry has said the conflict is "in many ways out of control"; Britain's Foreign Secretary Philip Hammond says a new initiative is needed to keep dialogue alive and the opposition in the peace process.
At least three more deaths were reported in Aleppo on Monday as a result of Syrian government airstrikes.
Washington rejects Syrian and Russian claims that Damascus is only targeting Islamists.
"We need to reinforce our efforts to refresh the cessation of hostilities and in particular, the Assad regime needs to live up to the commitments that they have made and we would like to see the Russians use the influence that they have, with the Assad regime, to get them to do it," said White House spokesman Josh Earnest.
US Secretary of State John Kerry has been in Geneva trying to revive the two-month-old US and Russian-sponsored truce. The UN envoy for Syria Staffan de Mistura, who is due in Moscow on Tuesday, has said there can be no progress in talks without the ceasefire and other steps "to bring tangible benefits on the ground for the Syrian people".
Secretary JohnKerry</a>'s remarks with <a href="https://twitter.com/UN">UN Special Envoy to #Syria Staffan de Mistura after their meeting today: https://t.co/G5JPpJ7Aet

— Department of State (@StateDept) 2 May 2016
Saving #Syria : "desperate" attempts by US, UN and Arab ministers in Geneva https://t.co/99ejfN6peOeuronews</a> <a href="https://t.co/RIPcouKKDv">pic.twitter.com/RIPcouKKDv</a></p>&mdash; Catherine Hardy (fernojay) 2 May 2016
Two local truces announced by Damascus did not apply to Aleppo, where government airstrikes and rebel shelling has killed more than 250 civilians in 10 days.
More than 50 died in a hospital rebels say was deliberately targeted by the Syrian army.
Several medics including the doctor thought to be the city's last paediatrician were among those killed.
The tragic final moments of Dr. Muhammad Maaz – the last paediatrician in Aleppohttps://t.co/ZMjIns2E7B

— Channel 4 News (@Channel4News) April 30, 2016