French parliament debates controversial labour laws as street protests grow
Comments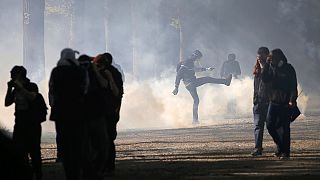 The French parliament has begun a potentially divisive debate over controversial changes to the country's labour laws.
Protesters and riot police are out in force across the French capital.
#LoiTravail (Myriam El Khomri, 2016) vs WEEK-END (Jean-Luc Godard, 1967) pic.twitter.com/wyqRSmz3Gs

— the thing (@YannBreheret) May 3, 2016
The face-off comes as the deeply unpopular president Francois Hollande attempts to loosen France's extensive and protective labour regulations.
One protester gave her opinion:"They brought the bill to the National Assembly, they act like there were is more debate in the street, but we think it concerns us, it's our future and our present, so we want the project to be binned and we're here to say it."
The government has argued it needs to cut red tape, however opponents see the bill as pro-business, which betrays the values of the left.
William Audoux is from the CGT union:
"The questioning of the hierarchy of labour standards, making lay-offs easier, the lower salaries, overtime paid three years later… It's a law of social regression like we've never known before so we'll keep demonstrating."
Myriam El Khomri, vent debout #abonnéshttps://t.co/YaZ5tpUTxY par nicolaschapuis</a> <a href="https://t.co/B4RZk1P4us">pic.twitter.com/B4RZk1P4us</a></p>&mdash; Le Monde (lemondefr) May 3, 2016
The Socialist labour minister, Myriam El Khomri is at the centre of the storm, not only from the impassioned street protests, but also the serious split within the ruling Socialist party.
Nuit debout Clichy s'installe pic.twitter.com/NEdJrwdG6p

— Robert Crémieux (@cremieuxrag) May 3, 2016
If the government looses the vote then it may be pushed through by decree, which would send the level of protest and division to a whole other level.