Italy arrests four on suspicion of plotting a terrorist attack
Comments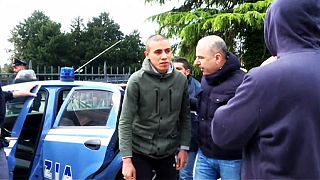 Police in Italy have arrested four people suspected of plotting a terrorist attack in the country.
Arrested suspects may have planned attacks in Italy, says interior minister: ROME (Reuters) – Italian police … https://t.co/YFU5GPa1EM

— •HP•|BAMIKOLE| (@BammyOfficial) April 28, 2016
Security forces say they intercepted an ISIL communication calling upon a man to launch an attack in Rome.
The suspect, identified as Abderrahim Moutahrrick, was arrested along with his wife.
Investigators claim the couple had intended to travel to ISIL controlled territory along with their two children.
Another man taken into custody was planning on joining ISIL as a foreign fighter.
Police say two arrest warrants are outstanding for a couple who have left Italy for Syria.
Milan prosecutor Maurizio Romanelli said the case was unusual because it involved a specific request to a specific person to carry out an act of terrorism on Italian soil.