Death toll of Kabul suicide bombing rises sharply
Comments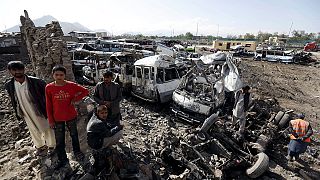 The suicide bombing that rocked Kabul on Tuesday morning has killed at least 64 people – more than double the number initially feared.
Afghan officials said nearly 350 people were wounded in the blast.
The bombing, for which the Taliban have claimed responsibility, struck the capital during the morning rush hour.
A spokesman for the interior ministry said: "These brutal acts of the Taliban are a crime against humanity, and a war crime. Massacring civilians and carrying out suicide attacks in a residential area is a clear sign of a war crime."
The attack was the deadliest of its kind in the Afghan capital since 2011, and came just days after the Taliban insurgency announced the start of its annual spring offensive.