Johnny Depp and Amber Heard issue deadpan video apology over dogs row
Comments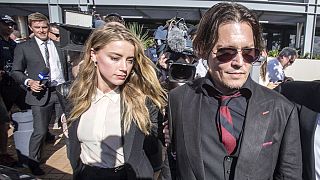 Johnny Depp and Amber Heard have released a video apology to Australians for breaking strict biosecurity laws by bringing their dogs into the country unregistered.
The video was played in court as Heard was given a suspended sanction of 1,000 Australian dollars which will be levied if she breaches a "good behaviour order" over the next month.
She had admitted falsifying travel documents, thus escaping a more serious penalty for illegally importing animals.
Farms minister Barnaby Joyce, who had threatened to have the couples two Yorkshire Terriers, Pistol and Boo put down, also published the video on his Facebook page.
Commentators there pointed out that the couple's performance was similar to a hostage video, and a number suggested they appeared to be making their admission at gunpoint.
"If you disrespect Australian law, they will tell you firmly," Depp intones in the clip, with Heard agreeing equally emotionlessly that "protecting Australia is important".
Heard had flown in with the pets last year to visit her husband who was shooting a Pirates of the Caribbean film.