Johnny Depp's dogs face death in Australia's 'War on Terriers'
Comments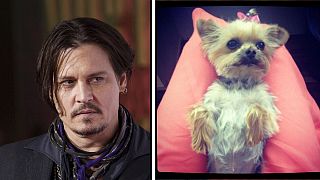 Hollywood star Johnny Depp is at the centre of a row in Australia over two illegal immigrants called Pistol and Boo.
The culprits have reportedly fallen foul of the law because, as Yorkshire Terriers, they were brought into the country without respecting the country's strict procedures on importing pets, including quarantine checks.
Now the dogs face a race against time to avoid being put down. They must leave Australian territory within 72 hours, the government said, or they would be euthanised.
For some, the issue draws a parallel with Australia's policies on immigration and asylum seekers, which have been criticised by Amnesty International and the Australian Human Rights Commission.
Which rules have been broken?
Australia has strict laws governing what can be brought into the country, to protect the island nation from pests and diseases.
The Department of Agriculture's website sets out a 19-step process for importing dogs, of which the first 18 steps are supposed to be taken before arrival in the country.
They range from checking vaccinations and testing for diseases, to booking quarantine accommodation.
The Australian government took the highly unusual step of issuing a statement on Depp's dogs, referring to a public figure but without mentioning the 51-year-old actor by name.
The department became aware of an illegal animal importation on Tuesday 12 May, the statement said.
The Agriculture Minister himself, Barnaby Joice, used slightly less diplomatic language. It was time the dogs "buggered off back to the United States," he was quoted as saying.
Johnny Depp's dogs must 'bugger off' to US or face death for entering Australia illegally http://t.co/hz2Y6ODzO7

— The Guardian (@guardian) May 13, 2015
How did the authorities find out about Depp's dogs?
Johnny Depp came to Australia for the filming of Pirates of the Caribbean 5. The animals reportedly bypassed customs when they were brought into the country in his private jet.
They were found out when a picture was tweeted of the Hollywood pooches at Happy Dogz, a pet grooming parlour in Queensland.
#PHOTOS: Groomers at Happy Dogz in Gold Coast w/ Amber Heard's dog Pistol and Boo. They arranged for an appointment! pic.twitter.com/Q9Tcup00wO

— Amber Heard Updates (@AmberHeardNews) May 12, 2015
"A biosecurity officer attended a Gold Coast property on 13 May and found two illegally imported dogs," said the government statement. "The dogs have been ordered into quarantine and the owners have been advised the dogs must be exported within 72 hours."
ICYMI: Barnaby_Joyce</a> faces a grilling over the <a href="https://twitter.com/hashtag/WarOnTerrier?src=hash">#WarOnTerrier</a> <a href="https://twitter.com/hashtag/theprojecttv?src=hash">#theprojecttv</a> <a href="http://t.co/87pZ4WYgOw">http://t.co/87pZ4WYgOw</a></p>&mdash; The Project (theprojecttv) May 14, 2015
How have people reacted in Australia and elsewhere?
Surely we could just hold Johnny Depp's dogs in some kind of offshore facility until their claims can be processed and accurately assessed?

— Adam Liaw (@adamliaw) May 14, 2015
Should Depp be fined? yes. Should the dogs be put down? No Should we be rushing to help #Refugees stranded at sea? HELLYES#auspol

— Jansant (@Jansant) May 14, 2015
Tempting to think Johnny Depp should call the Australians bluff. There is no way they will kill the dogs .

— neil mullane finn (@NeilFinn) May 14, 2015
Leave Boo & Pistol alone. If you put them down Johnny Depp will not return to Australia. Are we willing to risk no Johnny

— Christian Anthony (@ChristianAntho) May 14, 2015
I'm prepared to take in Johnny Depp's dogs, but it's gonna cost him. He'll need to do the Edward Scissorhands thing to my front hedge.

— Andrew Voss (@AndrewVossy) May 13, 2015
And where has Australia's #WarOnTerrier got to now?
So what does Australia's #1 Fixer Terrior / Poodletician cross cpyne</a> have to say about the <a href="https://twitter.com/hashtag/WarOnTerrier?src=hash">#WarOnTerrier</a>? <a href="http://t.co/v9KNn3aC8t">pic.twitter.com/v9KNn3aC8t</a></p>&mdash; Gareth Davidson (red_cordial) Mayo 14, 2015
Turn them back! #WarOnTerrierpic.twitter.com/oWss1kG34s

— Chris Chamberlin (@popculturechris) Mayo 14, 2015
We can't afford a Lassie faire attitude to the importation of illegal dogs. #WarOnTerrier

— Stu Diligence (@StuDiligence) Mayo 14, 2015