Hollande raises issue of human rights in Egypt
Comments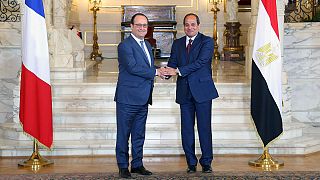 French President Francois Hollande has raised the issue of human rights on his visit to Egypt. The French leader is in the country to witness the signing of several economic agreements but the trip has been overshadowed by claims of Egyptian rights abuses.
Since the overthrow of president Mohamed Morsi in 2013, and the coming to power of President Abdel Fattah al-Sisi, police have waged a bloody crackdown on Islamists that has killed more than 1,000 protesters.
The crackdown has spread to secular and leftwing dissidents who had supported Morsi's overthrow but then turned on Sisi.
Meanwhile, jihadists have mounted an insurgency based in the Sinai Peninsula that has killed hundreds of soldiers and policemen.
The Islamic State group's Egypt affiliate has also claimed responsibility for bombing a plane carrying Russian holidaymakers over Sinai last October, killing all 224 people on board.
President Hollande said during a press conference that respecting human rights was not an obstacle to fighting jihadists… "they are not a constraint but they are also a way to fight against terrorism."
Hollande also apparently raised the case of Italian student Giulio Regeni whose body was found covered in torture marks in February in Cairo. Italian officials claim he was killed by Egyptian security forces.
He also brought up the case of Eric Lang, a French teacher who was murdered in an Egyptian jail in 2013.
In the past Amnesty International has criticised what they called France's "deafening silence" on allegations of abuses in Egypt.
In response Al Sisi claimed that false accusations have been made against Egypt's police and judicial system.
After his Cairo trip, Hollande will on Tuesday visit Jordan's Prince Hassan air base, where French aircraft taking part in the coalition battling IS in Syria and Iraq are stationed.