Goodbye Mandima - remembering the end of an African childhood
Comments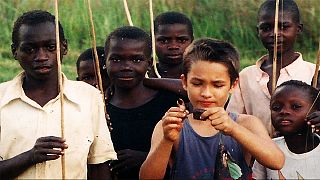 Through home-movies discovered at my grandparents' home in Bordeaux, I recount my childhood in Mandima, a little village in northeast Zaire, where I was born.
Starting with a panoramic still of the great departure, I observe and recall those first ten years of that young boy who would, one fine day, have to leave for the city, for high school.
Directed & Written by Robert-Jan Lacombe
Production: École Cantonale d'Art de Lausanne
Sound Mix: Jérôme Cuendet
Subtitles: Escarlata Sánchez, Lena Roche, Diego Giuliani, Nuno Prudêncio & Adrian Lancashire
This video is brought to you by 99.media, a not-for-profit digital platform that adapts and shows documentaries in six languages.