Germany train crash: police arrest controller 'distracted by mobile phone games'
Comments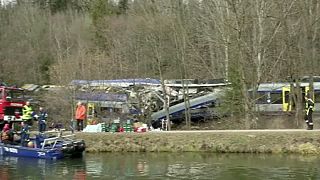 German police have arrested the train controller on duty at the time of a deadly crash in Bavaria.
The 39-year-old is accused of being distracted by video games on his mobile phone when two trains collided head-on outside Bad Aibling, killing 11 people and leaving dozens seriously injured.
Investigators found he made several mistakes. First by allowing the trains access to the single-track line, and second by pressing the wrong buttons when he tried to alert the two trains. He apparently managed to send through the correct signal, but it was too late.
The controller admitted to playing games on his phone, but not to being distracted. The investigations are continuing.
The train operator, Meridian has declined to comment.