Indian officials launch inquiry into deadly temple fire
Comments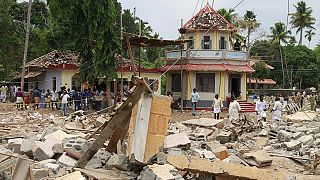 A judicial inquiry has been ordered by the Indian authorities into an explosion and fire at a Hindu temple in Kerala that killed at least 110 people and injured 400.
The blaze started during a firework display as part of a local Hindu new year festival. Witnesses said a cracker fell onto a shed where the majority of the fireworks were being stored , sparking a string of powerful explosions that blew the roof off the the administrative block of the temple causing another building to collapse.
The inquiry is to look into the question of permission for the display.
One official claims the temple had been denied permission to stage the show on safety grounds but had gone ahead anyway.
"There were more than 150 kilograms of explosives being stored. But there was no permission, no permit license, no license for setting off fireworks," said one witness.
Many of the dead were charred beyond recognition and will have to be identified by DNA tests
"Everybody was got injured. Everybody's face was covered with cement and all. Everybody, almost everybody got injured," said one survivor.
State health workers said that local hospitals were overwhelmed with victims so many of the injured had to be driven to the state capital some seventy kilometers away.
Indian Prime Minister Narendra Modi, who visited the scene and spoke with victims described the incident as "shocking beyond words".