India: Five detained over deadly temple fireworks display
Comments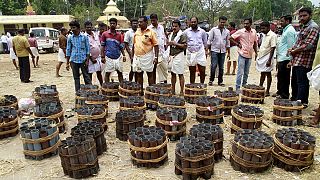 Police in India were questioning at least five people on Monday over this weekend's deadly fireworks display at a Hindu temple, captured on camera in footage that has just emerged.
There were so many men and women lying on the ground, lifeless
More than 100 people were killed on Sunday when the unauthorised pyrotechnic show, part of new year festivities in the southern state of Kerala, set off explosions and a fire.
Nearly 400 people were injured, suffering burns and wounds caused by flying concrete and debris.
On Monday, grieving relatives of the victims were scouring the temple grounds for possessions of their loved ones among the shoes, handbags and other articles strewn in a pile of debris and a puddle, dark red with blood.
"There were so many men and women lying on the ground, lifeless," said Anish Kumar, a resident.
A day after devastating Kerala temple fire, heart-wrenching search for loved oneshttps://t.co/8k6B4un3pmpic.twitter.com/AgoZm1pui2

— Times of India (@timesofindia) 11 avril 2016
One of the thousands gathered at the temple when disaster struck, an unidentified man told how he had lost his brother in the disaster.
The man had been attending the event with his family, enjoying the celebrations, when the fire broke out.
"A big piece of stone hit my brother on the head," he said.
As police pursue an attempted murder enquiry, Prime Minister Narendra Modi flew to the region within hours with a team of doctors and visited those injured in hospital.
Lax security is often the cause of the all too frequent fires and stampedes at religious events in India.