Polls open in the Netherlands in EU-Ukraine trade agreement vote
Comments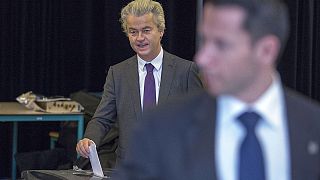 Polls have opened in the Netherlands in a vote for or against the European Union's association agreement with Ukraine.
Designed to strengthen economic and political ties between the 28-nation bloc and Kyiv, the deal has already gained the approval of the other member states.
The vote is non-binding. But the government of Prime Minister Mark Rutte, who backs the deal, is already on rocky ground. Ignoring public opinion would, then, be a dicey move with elections scheduled in less than 12 months' time.
A no-vote would boost anti-EU sentiment at an uncertain time for the bloc.
Dutch far-right politician Geert Wilders sees the ballot as an opportunity to land a blow on the PM, but also to gauge the tone further afield in uncertain times for the Union. Britain is due to vote on whether or not to leave the bloc in June, 2016.
Moscow, too, will be closely watching the outcome. If the Dutch vote 'no,' President Vladimir Putin and pro-Russian separatists in Ukraine will see it as a victory.