Terror pushed to the sidelines for France and Belgium friendlies
Comments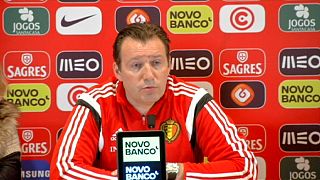 Belgium coach Marc Wilmots insisted life must go on as his side prepare to face Portugal in friendly on Tuesday a week after the twin terrorist attacks in Brussels left 34 people dead.
The international friendly fixture had been scheduled to take place in the Belgian capital and was initially cancelled for security reasons.
Instead the Euro 2016 warm-up game will now be played in Leiria on Portugal's western coast.
Wilmots said: "The country has suffered from an emotional shock and we lost people that had nothing to do with this conflict. It happened in our country, in our airport. From now on, as I said, we have to keep looking ahead. Life must keep going on and we can't live in fear.''
Elsewhere the French national football team will be returning to the Stade de France for the first time since November's terrorist attacks in Paris as they take on Russia in a friendly.
Extra security measures are planned for the clash after suicide bombers detonated explosives near the ground last year during attacks across the French capital that killed 130 people.
Ahead of the tie France coach Didier Deschamps said: "This is our stadium…but I won't forget just as nobody will forget. Up until November there were only great memories of this stadium but unfortunately that is not the case anymore. We have to remember the positive times whilst keeping in mind what happened. I hope that this will never happen again."
Some 400 police officers in addition to elite French snipers will reportedly be involved in ensuring fans' safety at the Stadium as the French government looks prove their ability to provide adequate security for international football fans with the 2016 European championships looming large.