Palmyra recaptured from ISIL, military source
Comments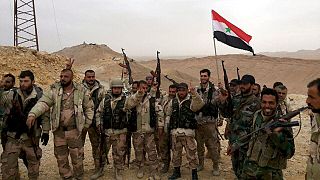 Syrian government forces have retaken Palmyra from ISIL militants, according to a military source.
"After heavy fighting during the night, the army is in full control of Palmyra — both the ancient site and the residential neighbourhoods," the source said.
It comes on the back of a major offensive in the ancient city.
Syrian forces backed by Russian airstrikes have been edging into the area held by ISIL since May 2015, capturing the ancient citadel on Friday.
The recapture marks a pivotal moment in the campaign to defeat the militant group in Syria.
In Iraq, residents in southern Mosul have begun to leave their homes as government forces went on the offensive to recapture the town from ISIL.
Makhmour is set to be a launchpad for the offensive to liberate the whole of the Nineveh province.
Kurdish peshmerga forces have already cut it off on three sides and are closing in to within 15km at some points along the front line.