Alpine Skiing: Lara Gut claims World Cup title as compatriot Holdener wins combined crown
Comments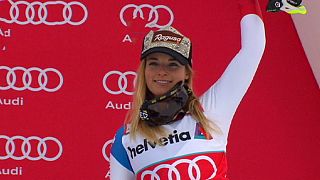 The alpine combined event at Lenzerheide in Switzerland turned out to be a triumphant day for two home skiers.
Wendy Holdener took the race win and the discipline's crystal globe while compatriot Lara Gut celebrated the overall World Cup crown.
24-year old Gut was ninth-fastest in the morning's slalom and then produced a fine run down a foggy Super-G course to finish the event third.
That result has left her with a lead of 355 points in the overall season-long standings over Germany's Viktoria Rebensburg, who did not race Sunday.
Next week's finals in St Moritz features four races offering 100 points each for a win.
But Rebensburg has never raced in World Cup slalom and does not plan to compete in that discipline which makes Gut the first Swiss female racer since Vreni Schneider 21 years ago to be crowned overall champion.
It turned out to be a fantastic day for the Swiss contingent and the 4,200-strong partizan crowd as home hope Holdener won the event.
She had a combined time 0.46 seconds faster than runner-up Michaela Kirchgasser of Austria, with Gut a further one hundredths of a second back in third.
Holdener's victory secured her a small crystal globe for winning the combined title.
.WendyHoldener</a> takes the win and the alpine combined globe after a sparkling performance!<a href="https://twitter.com/hashtag/worldcuplenzerheide?src=hash">#worldcuplenzerheide</a> <a href="https://t.co/yDRM8PGOgh">pic.twitter.com/yDRM8PGOgh</a></p>&mdash; FIS Alpine (fisalpine) March 13, 2016
At the Summit
The Super-G in Kvitfjell is a happy hunting ground for the Kjetil Jansrud.
The Norwegian celebrated victory on home snow at this resort for the third year in a row and for the fourth time of his career.
Having his warm-up skis stolen from his hotel earlier in the day didn't seem to affect 30-year-old Jansrud as he wracked up his 14th career win, sixth in a super-G and fourth victory of this season.
The reigning Super-G Olympic champion had a poor day at the downhill office – for his standards – on Saturday finishing fifth, but he bounced back in style to take the SG in a time of one minute 32.71 seconds.
He crossed the line 17 hundredths of a second faster than second placed Austrian Vincent Kriechmayr.
It was the second year running that Kriechmayr has finished runner-up in this race at the Norwegian resort and was his third career podium placing on the World Cup circuit.
Dominik Paris enjoyed a fine weekend at Kvitfjell.
The Italian won the downhill on Saturday and rounded out the Super-G podium on Sunday trailing by 0.32 seconds in third.
The speed skier from Merano, South Tyrol has now made five World Cup podiums this campaign and will head into next week's finale confident he can add another one to that record.
Great SG at WC_Kvitfjell</a> with local <a href="https://twitter.com/Kjansrud">Kjansrud claiming the win and Kriechmayr & domparis</a> rounding out the podium <a href="https://t.co/Prnd9brB0P">pic.twitter.com/Prnd9brB0P</a></p>&mdash; FIS Alpine (fisalpine) March 13, 2016
Analyze this
Five men have the possibility of lifting the downhill title after the discipline's final race on Wednesday in Saint-Moritz. Four of them – Aksel Lund Svindal, Peter Fill, Jansrud and Adrien Théaux – are all over 30-years old and it's a situation that doesn't surprise Franck Piccard.
Piccard, the 1988 Olympic Super-G champion, said: "The downhill is a discipline that requires a lot of experience, a lot of instinct, so much ability considering the circumstances. So you need several seasons in the World Cup under your belt. That's why the people that compete in the downhill usually have an abundance of technical ability and deep knowledge of slopes which is acquired progressively over the years. They also have an ability to adapt. That's why we need skiers of experience in downhill."
Skiing Past
Zurbriggen-Girardelli, Girardelli-Zurbriggen; the rivalry between these racers from Switzerland and Luxembourg dominated men's pro skiing in the '80s.
Between them they won the overall World Cup title eight years in a row, but it was Pirmin Zurbriggen who shone at the 1985 world championships.
Just three months prior to the World Championships, Zubriggen had an operation on his meniscus, but that didn't stop him producing a stellar performance in Bormio, Italy.
On February 3 1985, the day before his 22nd birthday he stunned the favourites by winning the downhill title 11 hundredths of a second clear of fellow Swiss Peter Müller with American Doug Lewis coming in third.
He then won another gold in the combined and took silver in the giant slalom capping off a stunning World Championship-achievement.
It's Snowtime
We finish this episode of Gravity with one of the most famous and most difficult races in ski-mountaineering; Pierra Menta.
After four days and 10 000 meters of elevation in the Savoy region, victory at the 31st edition of the event went to the French-Spanish pairing of Mathéo Jacquemoud and Killian Jornet. French duo Axelle Mollaret and Laetitia Roux won the women's race. (Check out video above)