WATCH: Argentina ice arch collapse caught on video
Comments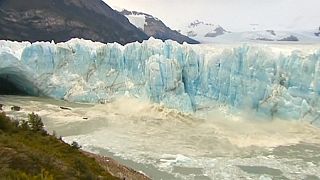 Chunks of Argentina's Perito Moreno glacier collapsed on Thursday (March 10) as large chunks of ice plunged into Lake Argentina.
The Patagonian glacier known as the "White Giant" is one of Argentina's biggest attractions.
Tourists and locals visited the site, located in the city El Calafate, in the Santa Cruz Province, in recent days, hoping to catch a glimpse of the rare spectacle.
Local media reported thousands of tourists were on the observation deck when the roof of an ice tunnel caved in on Thursday.
The rupture occurred after partial break-ups began on Tuesday (March 8), according to local media.
The glacier sheds ice roughly every four years.
The glacier last ruptured in March, 2012.