How ISIL is turning to children for its next breed of jihadists
Comments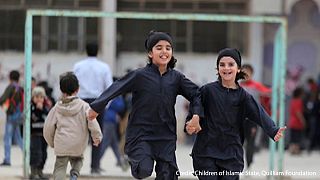 ISIL has more than 30,000 pregnant women within regions it controls as the extremist group prepares its next generation of fighters, a new report has claimed.
School should be a place where children are made to feel happy and safe not a place where they are exposed to such brutal and violent things
The women are being kidnapped, used as sex slaves and impregnated solely to boost the group's future manpower, according to Nikita Malik, a senior researcher at Quilliam Foundation and co-author of The Children of Islamic State.
The dossier also reveals children already under ISIL control – including up to 50 children from the United Kingdom – are being exposed to extreme violence from young ages, even in the group's education system.
"The sheer scale of the violence was very shocking," Malik told Euronews (you can listen to the full interview here) "The violence is so deep within the curriculum.
"Textbooks, for example, will have pictures of guns and the guns will be used for counting and pictures of tanks. And this was in a primary school book.
"The level of violence, the normalisation of violence was very shocking to me because it's something you don't associate with young children.
"School should be a place where children are made to feel happy and safe not a place where they are exposed to such brutal and violent things."
How is
ISIL

using children?

Quilliam's analysis says ISIL is employing Nazi-like systematic indoctrination of children through schools and training camps.

Some of the most shocking ISIL videos have included footage of children executing enemies of the extremists, something the report says serves to 'normalise these atrocities and further indoctrinates the children'.

They have also been used as soldiers, preachers and suicide bombers, it adds.
It also claims the current generation of fighters sees children as even more lethal than themselves, preferring the power of a child being indoctrinated from a young age to radicalisation in later life.
Keeping it in the family
The report says children have found themselves in Syria and Iraq after being abducted or via forced recruitment by armies in Africa.
"What was also interesting was the role of families in this (radicalising)," said Malik. "In regimes such as Saddam Hussein's and Hitler's, children were used primarily as spies, to spy on the family and then inform the leaders what the families really think of the regime.
"What we're seeing with Islamic State is a flip of that. Families are part of the radicalisation process, they are the ones taking children to foreign countries (eg Syria, Iraq) and giving birth to children in foreign countries."
'Bedtime stories on death and martyrdom'
The report claims ISIL's recruitment strategy is to entice whole families, rather than individuals.
It says: "Islamic State, on the other hand, is not just a rebel group, but an aspiring state, and it needs societies, not just soldiers.
"As such, its recruitment tactics feed into its long-term strategy by enrolling the whole family, not just the youth.
"Mothers are given books instructing them how to bring up jihadi children. Suggestions include telling bedtime stories about martyrdom, exposing children to graphic content through jihadi websites."
The report says there are 31,000 pregnant women under ISIL control and Malik thinks the majority, if not all, will breed children who grow up believing the extremists' ideology.
She said: "I would argue the 31,000 figure we quoted would be trained, because this figure, while it is astoundingly high, we have to keep in mind many of these women are second and third wives. They are sex slaves, they have been kidnapped and abducted and so they are being impregnated for the sole reason of bringing up their children in these education curriculums and as next generation of fighters."
What happens next?
The Children of Islamic State
also looked at what would happen if children brought up in
ISIL
-controlled territory returned home.
Malik claimed if one of the 50 UK children thought to be in Syria and Iraq came back, the British government would have an obligation to take them in.
Tareena Shakil fled to Syria with her toddler son in 2014, but has since returned to the UK after 'realising how extreme the ISIL regime was'.
Tareena Shakil found GUILTY of taking her son to Syria to join ISIS https://t.co/SbruuSpwZepic.twitter.com/QLtbnOKpEc

— Gun Crazy (@GunCrazyTalk) March 3, 2016
She added: "It's very likely we will have more cases of children returning, either with their families or a sense of their own agency."
The report says the current model used by UK agencies to reintegrate children into society was inadequate.
"To reintegrate children is hard enough when traditionally you have families from which they have been abducted from," she said. "When the child comes back there is a support system which he or she is familiar with. I cannot imagine how difficult it's going to be when the family is part of the radicalisation process and the child is then separated from not only the family but also the education system that they've been taught, plus the emotional, mental and physical trauma they are suffering."
How reliable is this report?
The report was compiled by monitoring propaganda put out by ISIL, which has its shortcomings, admitted Malik.
She said: "Of course this material is very biased. There are instances of children speaking into the camera looking very happy – we don't know to what extent these children have been forced to say these things and to what extent they even know what they're saying.
"But it does give us an insight into what life is like, even though that insight might be biased towards the people who are giving that information."