Turkish police turn water cannon and tear gas on protesters in Istanbul
Comments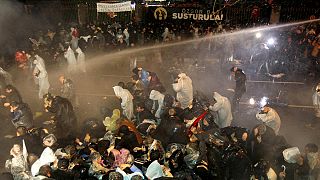 Police in Istanbul used water canon and tear gas on a crowd trying to prevent them entering the offices of Turkey's top-selling newspaper.
State media said the raid on Zaman was ordered following a request by the prosecutor investigating a U.S-based cleric who is accused of trying to topple the government.
Gov't takeover of #Zaman media group draws international backlash https://t.co/LsyYkSmKp0pic.twitter.com/lXPBU6ghn9

— Today's Zaman (@todayszamancom) March 4, 2016
It's the latest move in clampdown on the media by the government who critics accuse of trying to silence opposition.
Rights groups and European officials have criticised the seizing of Zaman newspaper and its sister publication, Today's Zaman, which is printed in English.
Speaking before the raid the paper's Editor-in-Chief, Abdulhamit Bilici, said such actions are not uncommon in Turkey:
"Unfortunately it has been a habit for the last 3 to 4 years that anyone who is speaking against the government policies is either facing court or prison or control by the government. And I think that this is a dark period for our democracy."
The cleric being investigated is Fethullah Gulen, once a close ally of President Tayyip Erdogan. But he how stands accused of plotting against the government after a corruption scandal three years ago that was leaked by police suspected of belonging to his religious movement.