UN warns of looming humanitarian crisis in Greece as migrant numbers soar
Comments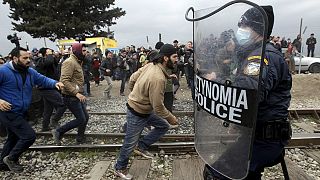 The UN refugee agency says crowded and appalling condition for migrants have been fuelling tensions and violence on the Greek border with the former Yugoslav republic of Macedonia.
The High Commissioner for Refugees has warned that "Europe is on the cusp of a largely self-induced humanitarian crisis." Sentiments unsurprisingly shared by those stuck on the frontline.
"It was a nightmare, we wake up in a swimming pool. We forced to move our tent in a different place because under it it was draining of water. It was a very bad night," said one migrant, Yusuf, from Damascus.
An estimated 22,000 migrants and refugees were trapped in Greece on Monday with officials warning it could reach 70,000 in coming days.
The UNHCR has also accused Austria and other countries along the Balkans migration route of breaking the law after they imposed restrictions on their borders, limiting the number of migrants able to cross.