FYROM allows in hundreds of migrants, as others remain trapped in Greece
Comments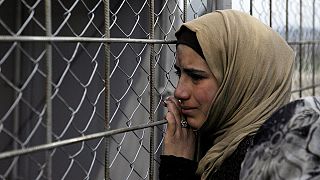 The Former Yugoslav Republic of Macedonia has opened its frontier with Greece – albeit briefly – to allow in around 400 migrants and refugees.
Police from Serbia and Slovenia checked the mostly women and children before allowing them to cross.
Border just opened for a family of 7. They bursts out in tears and joy. #idomenipic.twitter.com/APdgbGcNqx

— Philipp Breu (@philippbreu) 28 February 2016
Countries along the Balkan route, including Macedonia, have beefed up controls, reducing the number of people allowed entry each day.
It has caused a bottleneck in Greece, where more than 6,500 migrants are stranded in the border town of Idomeni.
#Greece: Syrian & Iraqi refugees trapped at the border lie on rail tracks during a protest in Idomeni by lgouliam</a> <a href="https://t.co/7qRHO4XBOW">pic.twitter.com/7qRHO4XBOW</a></p>&mdash; Talar Kalajian (TalarKala) 28 February 2016
Thousands more people are stuck at Piraeus port, near Athens.
"I have here four days, four days here. But I don't know what then, I don't know. How we can go, I don't know," said Ahmed Halil, a Syrian refugee from Aleppo.
Those in limbo at Greece's main commercial port are being stopped from travelling to the Macedonian border.
The Greek migration minister has said as many as 70-thousand could become trapped over the coming months.