Border closures fail to deter the flow of people to Greek mainland
Comments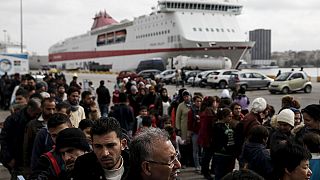 And they keep on coming. Despite the closure at the country's northern border, refugees continue to flood into Greece.
At least 2,000 more arrived on Monday at the Greek mainland port of Piraeus from the islands of Lesbos, Leros and Chios.
Another 2,000 are already holed up in the passenger terminals of the port waiting for chartered buses to take them to the border, but the government has clamped down on the buses to stop them from heading north.
Greece asked its passenger ferry companies and travel agencies to cut back on bringing migrants and refugees from front-line islands to the mainland and said its own chartered ships would stay put for a few days.
Meanwhile, refugees and migrants stranded since Monday staged a protest demanding that authorities in neighbouring Former Yugoslav Republic of Macedonia lift border restrictions and let them continue their journey to northern Europe.
Asked whether he was aware of the border closures, Syrian migrant Ibrahim, 23, said: "I cannot do anything because I don't have anywhere, any place, and still I want to go, because maybe something happen, maybe change the situation, maybe the border is open, and say to God please help us."
Hasan Halef, from Iraq said: "I am worried and I am afraid also, because we need to go there. We just want to survive, we are looking for peace."
Migrants and refugees have found shelter at the old international airport of Ellinikon, which now serves as a temporary camp.
GREECE – Children sleep in port of Piraeus after their arrival from islands of Lesbos & Chios. By lgouliam</a> <a href="https://twitter.com/hashtag/AFP?src=hash">#AFP</a> <a href="https://t.co/DpBv6d1YQT">pic.twitter.com/DpBv6d1YQT</a></p>&mdash; Frédérique Geffard (fgeffardAFP) February 25, 2016
It is estimated some 7,000 migrants are now waiting on the Greek-Macedonia border to cross, with the intent of reaching Germany. The Macedonian government is allowing only a few hundred to pass at a time, and only Syrians and Iraqis.
At least 22,000 refugees have been stranded in Greece over the past week since border restrictions were imposed by Balkan countries, according to the government. Authorities expect this number to rise to 70,000 over the coming weeks.