Obama calls for strikes on Syria to stop, except US-led attacks on ISIL
Comments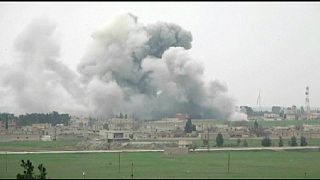 US President Barack Obama has urged all parties to stop attacks — both ground and aerial — in Syria.
However, he stressed Washington-led strikes against ISIL strongholds were not included in the cessation of fighting.
Obama warned the US would "remain relentless" in its fight against the Islamist group.
"The only way to deal ISIL a lasting defeat is to end the civil war and chaos in Syria." —@POTUS: https://t.co/RnXlQ7rsWf

— The White House (@WhiteHouse) February 27, 2016
His weekly address came as ISIL militants launched an assault on Tel Abyad, a Kurdish-controlled town on the Syrian border with Turkey.
Despite the fresh attack, Obama said multinational efforts were helping to thwart the group.
"It remains a difficult fight. The situation in Syria and Iraq is incredibly complex. As we bomb its oil infrastructure, ISIL's been forced to slash the salaries of its fighters. Thanks to the work of many nations, the flow of foreign terrorist fighters into Syria finally appears to be slowing," he assured his audience.
"ISIL's territory is shrinking, there are fewer ISIL fighters on the battlefield, & it's harder for them to recruit" https://t.co/RnXlQ7rsWf

— The White House (@WhiteHouse) February 27, 2016
To coincide with the president's weekly address, the US Defense Department released videos claiming to show evidence of the attacks on ISIL-controlled oil facilities near Dayr Ay Zawr, in Syria.