British business bosses sign Brexit letter
Comments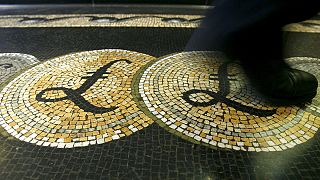 36

FTSE

100 firms
Telecoms giant BT, retailers Marks and Spencer and oil firm BP included
Bank of England making 'contingency plans'
Bookies say odds of leaving rose sharply after BoJo announcement
The bosses of more than a third of Britain's biggest companies have backed Prime Minister David Cameron's call for the country to vote to stay in the European Union.
They say leaving the EU would put the economy at risk.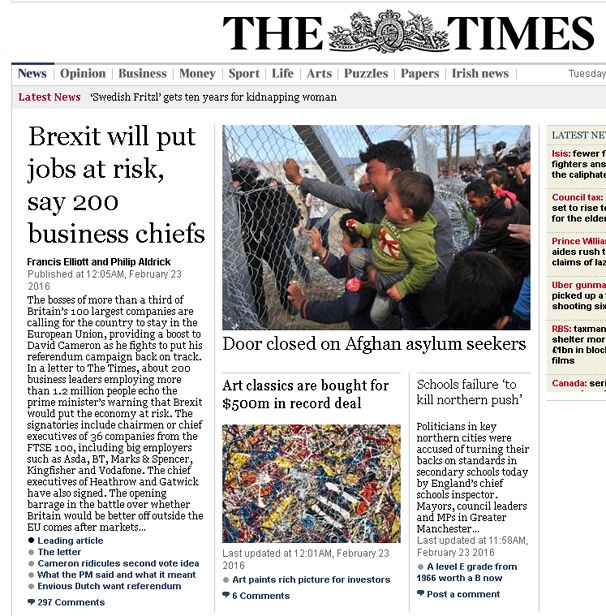 The leaders of almost 200 companies put their names to the letter, which was published in The Times newspaper.
It argued for the economic merits of EU membership.
However, some of Britain's biggest employers refrained from signing the letter, which was organised by the Britain Stronger in Europe 'In' campaign.
Lessons from Scotland
Big business made a similar move in the run-up to the 2014 Scottish independence referendum.
However, some voters pledged to boycott firms considered to be wading into politics.
Analysts think this may have made executives wary this time around.
Some signed the letter in a personal capacity, making it clear their companies remained neutral.
Bank of England
LATEST: The pound's decline deepens after Mark Carney acknowledges #Brexit factor https://t.co/cPnwhy8UQ5https://t.co/OQdaJ5wtMl

— Bloomberg Business (@business) February 23, 2016
Bank of England Governor Mark Carney says the central bank is not making judgements about the outcome of the referendum.
Carney said the bank is making contingency plans around the date on June the 23rd.
The recent moves in sterling have been influenced by the upcoming vote, he added:
"Our approach to forecasting events around the referendum is to take developments in markets and confidence indicators, survey indicators as given and to feed those through into the forecast."
Bookies on the Brexit
William Hill has slashed the 'Brexit' odds from 5/2 to 2/1 following Boris' decision to campaign to leave. pic.twitter.com/iHydz3rfXK

— UK News (@UK__News) February 21, 2016
Bookmakers say the chances of Britain voting to quit the EU have risen sharply since London Mayor Boris Johnson revealed he is backing the "Leave" campaign.
A poll in the Times newspaper showed 38 percent of Britons would vote to leave the bloc compared with the 37 percent who want to remain, with 25 percent saying they were undecided.
UK MPs – where they stand on Brexit
Anti-EU campaigner and UKIP MP Douglas Carswell says Johnson's decision was a turning point.
Rival politician and "In" campaigner Ben Gummer has denied claims Johnson's decision will tear the governing Conservative Party in two.