Bush is back: George W endorses brother Jeb in South Carolina
Comments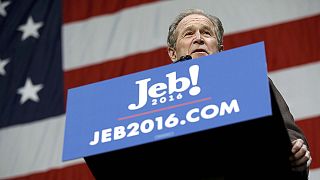 Bush is back…
I want to remind you what our good dad told me one time: labels are for soup cans. The presidency is a serious job that requires sound judgment and good ideas.
Just days ahead of the next primary vote, former US President George W Bush has come out in support of his brother Jeb. The move ahead of the South Carolina poll is an effort to get his Republican presidential campaign off the ground.
It could be a risky move. While he remains hugely popular in staunchly Republican South Carolina, nationally, views on the former leader are mixed due, in part, to the Iraq War which he launched in 2003.
But for now, the 69-year-old appears to have charmed the crowd. His speech started with jokes and ended with praise for "My big little brother, Jeb Bush."
"There seems to be a lot of name-calling going on but I want to remind you what our good dad told me one time: labels are for soup cans. The presidency is a serious job that requires sound judgment and good ideas. And there's no doubt in my mind that Jeb Bush has the experience and the character to be a great president."