Leopard enters Indian school, mauls six people
Comments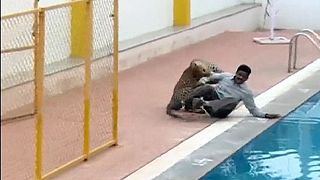 A leopard, which sneaked into a school in India and mauled six people, has been caught and relocated.
The eight-year-old male entered the campus on the outskirts of Bangalore in the early hours of Sunday morning (February 7), but wasn't spotted until the afternoon when it attacked an employee, local media report.
It managed to evade capture for almost ten hours after discovery. Two tranquiliser darts finally took an effect allowing rescuers to safely take the big cat away to a national park.
Officials speculate the leopard strayed into the school from a nearby forest.
Conservationists warn similar incidents could become more and more frequent as urban zones expand and encroach on animal habitats.
A leopard enters a school in the Indian city of Bangalore injuring six people who tried to capture it. pic.twitter.com/DrOQizajKp

— PTV World (@WorldPTV) February 8, 2016