American tourist killed in lion attack at South Africa park
Comments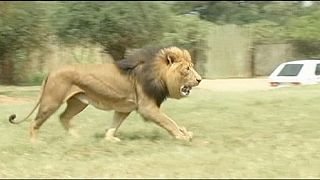 An American tourist has been mauled to death by a lion at a popular wildlife park near Johannesburg, South Africa.
Despite park signs, staff believed that the lioness attacked the women through an open window of the car she was travelling in.
"We hand them a slip of paper at the entrance just saying please keep your windows closed, we explain to them why," said Assistant Director of Operations Scott Simpson. "But despite this it seems that the windows were still down. (…) The lion then sort of lunged at the car and it bit the lady through the window. Our staff immediately rushed over to chase the lion away, and the gentleman that was driving, he sustained some injuries to his arms trying to get the lion out as well. "
The lion responsible for the attack will not be put down, but may be transferred to a private location.
According to local media it marks the the third lion attack at the popular park in the past four months.