Dutch police train eagles to pluck amateur drones from the sky
Comments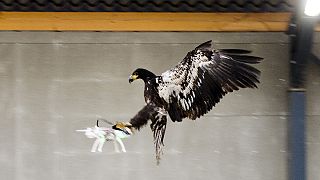 Dutch police are training eagles to remove drones they say pose a threat to public safety.
Sjoerd Hoogendoorn of 'Guard from Above', the company working with police to develop the concept, said the birds must be trained to recognise the drones as prey.
Hoogendoorn said their claws are tough enough to seize most amateur drones without injury from the blades.
The birds are rewarded with a piece of meat after each successful foray.
Police are expected to make a decision on whether to go ahead with using the eagles by the end of the year.
The combination of eagles and technology is not new.
A group called 'Freedom Eagles' uses the birds equipped with hi tech lightweight cameras to provide aerial footage of events.