Zika virus outbreak sparks abortion debate in Brazil
Comments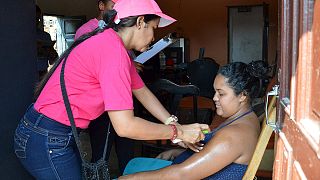 A debate is raging in Brazil over the country's restrictive abortion laws against the background of an outbreak of the Zika virus.
A rise in the number of babies being born with undersized brains is being linked to it.
Pro-abortion groups are petitioning the Supreme Court to allow legal terminations for infected pregnant women.
Lawyer and spokesperson for the Latin American women's rights group CLADEM, Beatriz Galli said infected women should have the right to choose:
"We do not have a diagnostic tool which is 100 percent secure… As it is a very uncertain future, women cannot be forced to carry forward a pregnancy in this crisis, this epidemic, or even pandemic as the"World Health Organisation":http://www.paho.org/hq/index.php?option=com_content&view=article&id=11585&Itemid=41688&lang=en declared regarding the Zika virus."
Abortion in Brazil is illegal unless the woman is raped or her life is threatened. Religious groups and their representatives such as Lenise Garcia who is president of "Brazil Without Abortion" accuse the lobbyists, who were pushing to legalise abortion before the outbreak, of being opportunists.
"What they really want to do is to legalise abortion in several situations, because if we legalise abortion for microcephaly, why don't we for Down Syndrome, or other illnesses which affect children?"
There have been over 4,000 notified cases of newborns with abnormally small brains in Brazil since October. The virus is normally spread by mosquito bite but the US has now reported a rare case of a Zika infection transmitted through sex.
Rural Brazil worst affected
Eight in every 10 of the microcephaly cases are in the poverty stricken northeast region of Brazil where the Zika virus was first detected in May.
One-third of them are in the state of Pernambuco where doctors first suspected the virus was infecting pregnant women in the early stages of gestation and stunting the brain development of the foetuses. The link between the virus and the birth defects has not been scientifically established.
Brazil's government has declared an all-out offensive to eradicate the Aedes aegypti mosquito that transmits the virus by biting people and breeds in stagnant water. There is no cure or vaccine for Zika at present.