Skiing: Kilde victory in World Cup downhill adds to Norway's spectacular season
Comments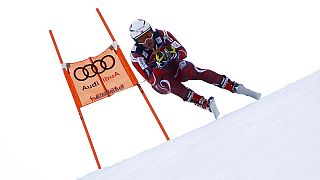 Norway's Aleksander Kilde won a surprise men's World Cup downhill on Saturday at Garmisch in Germany.
It looked like certain victory for Slovenia's Bostjan Kline until number 30 surged down the Kandahar course to take first place by point 22 of a second.
Kilde's victory gave Norway their fifth downhill victory this season and 16 win across all categories, the greatest accomplishment since Austria won 18 in the 2005-2006 season.
After the race Kilde said his victory was unbelievable.
Those may have been the thought of Bostjan Kline who nevertheless skied his way into an impressive second place.
Third place went to Switzerland's Beat Feuz coming in point 24 of a second behind the winner on what all agreed was a tough downhill course.
Less than point three of a second separated the top five skiers.
Amazing race! Aleksander A. Kilde takes his 1st ever World Cup win! Kline 2nd +0.22), BeatFeuz</a> 3rd +0.24 <a href="https://twitter.com/hashtag/kandahar?src=hash">#kandahar</a> <a href="https://t.co/sfDt7bUMEj">pic.twitter.com/sfDt7bUMEj</a></p>&mdash; FIS Alpine (fisalpine) January 30, 2016