Davos and divisions - WEF warns against growing gap between rich and poor
Comments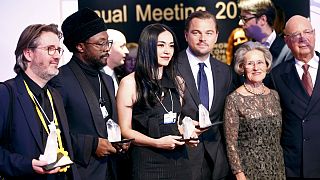 On the eve of the official opening of the World Economic Forum in Davos there were warnings about the growing gap between rich and poor. It's just one issue participants including heads of state and leading businessmen will be focusing upon.
Already anti-poverty charity Oxfam has raised the point that the world's richest 1 percent own more than the other 99 percent combined. It's got several CEOs such as Richard Edelmen thinking:
"The consequence of this (inequality in the world) is actually populism. You start to see the rise of politicians such as (US Republican front-runner Donald) Trump, (National Front leader Marine) Le Pen in France; you see it in Hungary with (right-wing Hungarian prime minister Viktor) Orban. And I believe you're going to start to see this on the Left as well.You start to see (Democrat candidate) Bernie Sanders in the US; you see this with (Labour opposition leader Jeremy) Corbyn in the UK."
Evidently the well known talking shop in the Swiss Alps has much to discuss, but fundamentally for any attempt at solving problems, Davos chairman Klaus Schwab said there must be dialogue, collaboration and cooperation.
.JohnCassidy</a> examines the divided economic perspectives at Davos: <a href="https://t.co/k6inwlEvlr">https://t.co/k6inwlEvlr</a> <a href="https://t.co/nf207uABef">pic.twitter.com/nf207uABef</a></p>&mdash; The New Yorker (NewYorker) January 20, 2016
For more news of Davos 2016 click here for euronews business section http://www.euronews.com/2016/01/19/what-is-the-4th-industrial-revolution/