Star studded cast heading to Davos this year
Comments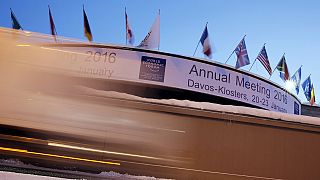 Big names just can't seem to keep away from the Magic Mountain. This year I would say it is Leonardo di Caprio stealing the show, and coming in a close joint second are Justin Trudeau, Canada's new, trendy Prime Minister, and Argentina's new President Mauricio Macri. There are some 40 world leaders on the bill at the Forum this year including Davos regular, British Prime Minister David Cameron, French Prime Minister Manuel Valls, Prime Minister of Turkey Ahmet Davutoğlu, US Vice President Joe Biden and Jacob Zuma, President of South Africa.
Each year the forum convenes under a unifying theme. This year it is 'Mastering the Fourth Industrial Revolution'. This revolution embraces the massive, fast, technological changes that are sweeping across and reshaping our world. There will, of course, also be much discussion on the major challenges facing us today – security, climate change, global growth and commodity prices.
Shooting in Davos today. You can't say the euronews</a> team doesn&#39;t go the extra mile for the perfect shot! <a href="https://twitter.com/hashtag/WEF16?src=hash">#WEF16</a> <a href="https://t.co/k5XEAKYXZs">pic.twitter.com/k5XEAKYXZs</a></p>&mdash; Isabelle Kumar (Isabelle_kumar) January 18, 2016
This is my fifth year in Davos and security is always tight, but it does seem to have stepped up a gear. For the first time I saw a tank roll down the street and there seems to be more security on the streets than in previous years. The front of the Congress Centre where the big plenary sessions take place is completely boarded up. I have not seen snipers out yet, but by the opening of the forum, if you look up, there are plenty of masked men or women posted on strategically placed roof tops at the ready.
Euronews will be producing daily special programmes from the Forum, with interviews and reports. I will also be producing two Global Conversation interviews – we are going to be at the heart of the action so be sure to follow us.
At #Davos2016Isabelle_kumar</a> will be meeting Swedish PM Stefan Löfven. Send your questions for him with <a href="https://twitter.com/hashtag/AskLofven?src=hash">#AskLofven</a> <a href="https://t.co/0znI7QcAN2">https://t.co/0znI7QcAN2</a></p>&mdash; euronews (euronews) 18 Janvier 2016
Euronews' Isabellekumar</a> will be interviewing Malian President Boubacar Keita. Send your questions with <a href="https://twitter.com/hashtag/AskKeita?src=hash">#AskKeita</a>. <a href="https://t.co/V2hZe57BtB">pic.twitter.com/V2hZe57BtB</a></p>&mdash; euronews (euronews) January 16, 2016