IMF downbeat about global economic growth
Comments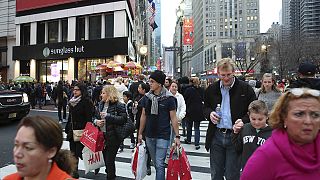 The International Monetary Fund has cut its growth forecasts for this year and next, the third time in less than a year that it has trimmed its outlook.
The Fund believes the world economy will grow 3.4 percent this year. Its estimate last October was 3.6 percent expansion.
US growth for 2016 is trimmed to 2.6 percent from 2.8 percent previously. The eurozone prediction is for 1.7 percent – a slight boost from October's estimate of 1.6 percent. That is because it is expected lower oil prices will help support private consumption. Chinese growth is seen unchanged at 6.3 percent this year.
Soft consumer demand in the United States and Japan and weakness in emerging markets due to worries over plunging oil and commodity prices and capital outflows from China were among the main risks.
The latest IMF outlook was released as we learned that last year the Chinese economy grew at its slowest rate in a quarter of a century.
Maurice Obstfeld, Economic Counsellor and Director of Research at the IMF said: "China has been transitioning to a model in which there is less of a dependence on exports, on investment, and more on consumption and services at the expense of traditional manufacturing industries."
Obstfeld warned Beijing should be clear about its overall economic strategy, including its currency: "Currency management is an area where the Chinese authorities could be communicating more clearly with markets."
The IMF said there are risks to global growth from a steeper slowing of demand in China and pointed out weaker-than-expected Chinese imports and exports were having a big effect on other developing economies.
But did note that global financial markets seem to be overreacting to the risk of a sharp downturn in China as well as to falling oil prices.
For more insight, Euronews Business correspondent Giacomo Segantini spoke to IMF Research Department Deputy Director Gian Maria Milesi-Ferretti.
Euronews: "Data released from Beijing today are in line with IMF estimates and indicate, other than a slowdown, a rebalancing of economic activity towards services. And yet China's transformation frightens many. Is the so-called "new normal" going to affect the rest of the global economy?"
Gian Maria Milesi-Ferretti: "We have seen in particular an impact through demand for commodities – especially metals – and that has caused a very sharp decline over the past few year in the prices of those commodities. With, of course, sizable implications for countries that are producers of those commodities. More generally, lower investment in China implies weaker pace of imports of capital goods that affect countries that export those goods. And we have financial markets repercussions as well, given the size of the Chinese economy, and also some uncertainty on how Chinese policy makers are reacting to this 'new normal'."
Euronews: "There seem to be no end to the fall of oil prices, especially after Iran's expected return on the global market. How does the IMF see the short-term outlook for commodity prices and what kind of effects, whether positive or negative, can we expect on global growth?"
Gian Maria Milesi-Ferretti: "The resilience of shale oil production in the United States has been higher than people were expecting. Many expected that, at these prices, production would plummet. Investment has plummeted, but production has kept up. As a result, we have an oil glut: a situation of excess supply that puts downward pressure on price. Clearly lower oil prices are positive for oil importers, so that is – in a sense – good news for consumers in the US, in Europe, in emerging economies like India. But, of course, [it] makes life more difficult for oil exporters and some of them are facing already quite difficult situations."
Euronews: "The Russian economy is expected to shrink again in 2016: do you think this prolonged contraction could affect the growth in bordering emerging Europe countries?"
Gian Maria Milesi-Ferretti: "It does have, of course, cross-border implications: the most significant ones are going to be in the countries that used to be in the Commonwealth of Independent States, where you have large trade links with Russia,as well as, for many of those countries, a lot of workers that send remittances from Russia. Overall, the growth prospects for Central and Eastern Europe are, I would say, reasonable over the next couple of years, but clearly with risks coming, among other things, from the situation in Russia."